Boone specializes in saltwater sportfishing lures and accessories. All Boone products are developed in Florida, the home base of US gamefishing. Boone products are high-quality and respected by gameboat captains worldwide.
Boone Bait Company has been producing lures for more than 60 years. Boone holds the distinction of being the first lure company to produce soft plastic baits and Boone lures hold many fish record captures.
Boone lures are available in more than 65 countries. No other saltwater lure company has the reputation or the success that Boone has earned. This success has come through the Boone Bait Company's philosophy of producing value-for-money fish-catching lures based on innovative designs.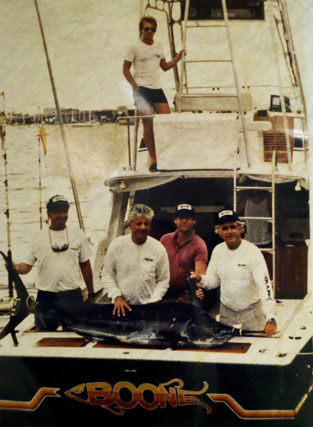 The Boone Bait Company produces massive numbers of lures each year. This volume enables Boone to source raw materials in bulk quantities at very competitive prices to produce products at realistic prices. Any angler buying a Boone lure will be pleasantly surprised by the value in each Boone product.
No charter boat captain worth his salt leaves shore without a selection of Boone lures, birds and teasers. If you're a recreational angler then do as the charter boat captains do and increase your success with Boone lures. Quite simply, either it's a Boone, or it's an imitation!!

Check out the Boone Fish Bag
in action!

Boone currently ships to 65 countries from its modern 14,000 square foot warehouse located in Winter Park, Florida. Stocking over 300,000 packs of skirts as well as 900,000 additional items of fishing tackle. Boone takes pride in our ability to ship to you on time. We look forward to another exciting year in the tackle business. Tight Lines!